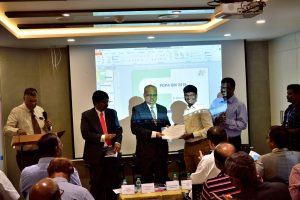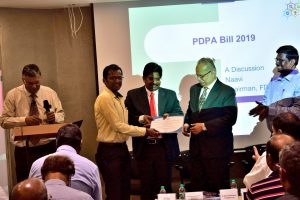 The first Certificates of the CDPP course conducted in December 2019-February 2010 were given to Mr Durai Kannaiyan and Mr Nikhil Ranjan Nayak in a function in Chennai on 14th March 2020, by the honurable guests Justice K.N. Basha and M.P. Mr P.Wilson.
They were two of the nine persons who successfully completed the certification program. Two others are from Mumbai and Five others are from Bangalore.
The successful candidates were:
M/S Durai Kannaiyan, Nikhil Ranjan Nayak from Chennai, Mr Anil Chiplunkar and Bondiah Adepu from Mumbai , Mr Suresh Balepur, Rajesh Kumar, Vasanthika Srinath, Suma Nagraja and V.K.Jyothi from Bangalore.
FDPPI conveys its hearty congratulations to all these professionals who got certified through the rigorous certification program conducted over a three moth period under the supervision of Sri Na.Vijayashankar, (Naavi) Chairman of FDPPI and the Director of Cyber Law College.
Naavi