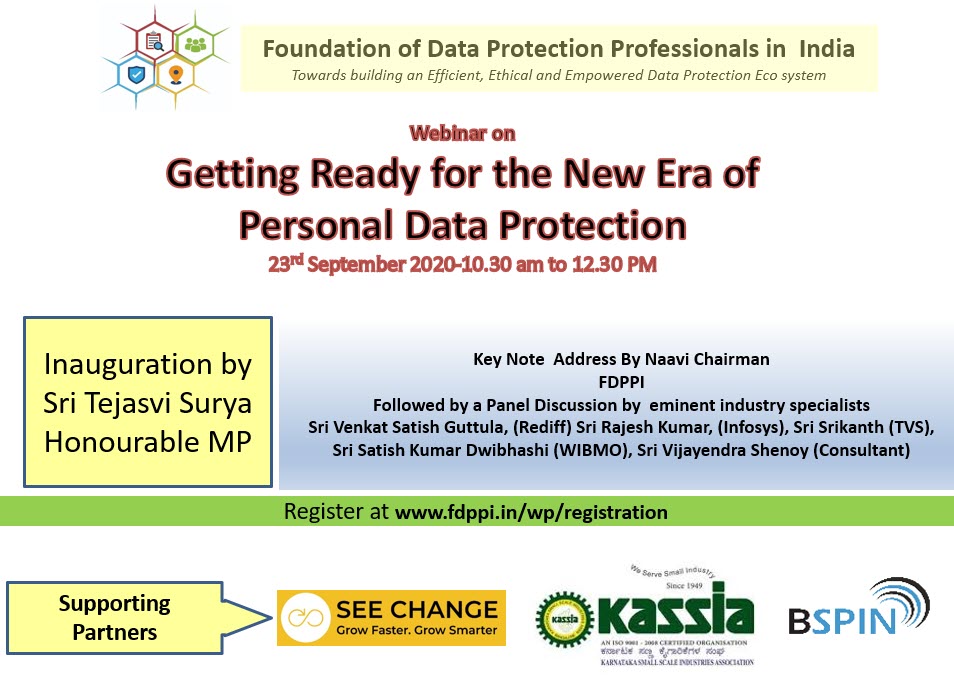 While Data Processing Companies which are in the IT sector have a reasonable awareness of data protection laws, non IT companies including the Government departments, NGOs, SMEs and MSMEs have not so far given much thought to the impact of the law that may hit them any time.  Many are banking on the Government not passing the bill quickly or provide a long time for implementation even after the bill is passed.
Whether Government obliges them or not, responsible businessmen need to start their journey to understand what the Act means to them and how they need to get ready for the new regime.
To enable this segment of the business community get an idea about what Personal Data Protection means in their domain, FDPPI is organizing a webinar on "Getting Ready for the New Era of Personal Data Protection? on 23rd September 2020.
The webinar will be free and available on invitation. It will run between 10.30 am to 12.30 pm.
The webinar will be inaugurated by Honorable Member of Parliament Sri Tejasvi Surya and is likely to have the participation of the State Government also. (Subject to Confirmation). Sri Na.Vijayashankar (Naavi), the Chairman of FDPPI will propose the Key Note address which will be followed by a panel discussion by eminent industry specialists viz, Sri Venkat Satish Guttula, CISO, Rediff.com, Sri Rajesh Kumar, Group Manager, Privacy and Data Protection Office, Infosys,Sri S.Srikanth, CISO, TVS., Sri Satish Kumar Dwibhashi, CISO, Wibmo Inc., and Sri Vijayendra Shenoy, IS Consultant and former Vice President, IT at Mumbai International Airport Ltd.
Persons interested may kindly register themselves here.