The  training for "Certified Data Protection Professionals-Module A" covering data audits is set to start tomorrow.
The registrations have closed.
The tentative agenda covering 12 sessions of 90 minutes each totaling to around 18 hours in total is as given below.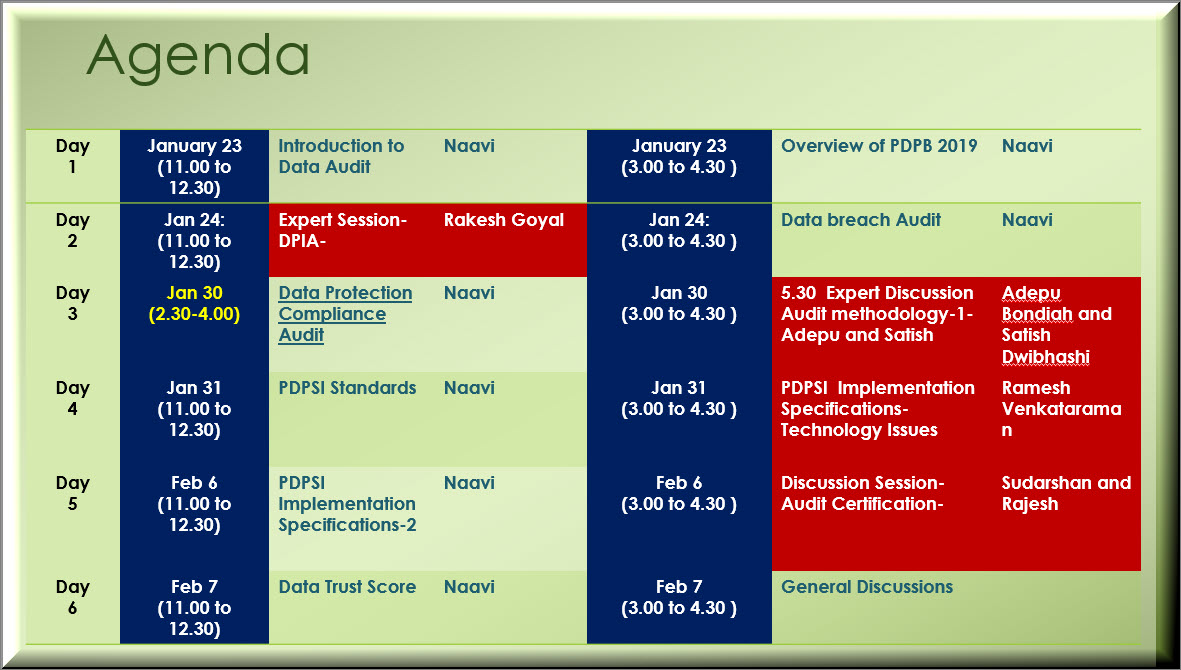 This program along with the earlier two modules on Indian law (Module I) and Global Law (Module G) would prepare professionals for both providing Data Protection Compliance consultancy to companies as well as conduct  certifiable audits under the PDPSI (Personal Data Protection Standard of India" sponsored by FDPPI.
These audits will also make an assessment of the Data Trust Score of an organization which is envisaged in the Indian PDPB 2019.
These programs being delivered with the assistance of Cyber Law College, come with the assurance that after the PDPB 2019 is passed, the previous trainees would be provided a free additional training to cover the changes in the law and issue of any guidelines from the Data Protection Authority on the requirements of Data Auditors.
At present there are nearly 100 professionals who have been certified in Module I, or Module G or both. Persons who have completed all the three modules would be considered for accreditation as PDPSI auditors.
With the completion of this program, India will have for the first time, a compliance framework which could match or even excel the global standards.
Naavi