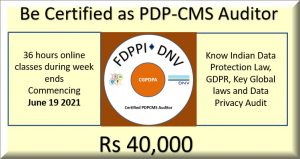 FDPPI has been conducting different training programs to build the skill sets required to be a competent Data Protection Professional in India. Currently three programs have been launched namely the Module I, Module G and Module A. These three modules cover the Indian Data Protection laws, Important Global Data Protection laws and also the knowledge necessary for conducting Data audits as required in the compliance scenario.
FDPPI is now launching a combined training program which incorporates the content in all these three modules over a 36 hour online program. The program is conceived as a week end program with 3 hour sessions on each Saturday and Sunday starting from June 19. The program is scheduled to go upto July 25th. Sessions will be between 10.00 am to 1.00 pm each day.
There will be three part examination at the end of the program. Each will be a 90 minute online examination.
On successful completion of the examination the participants will be issued a certificate either as "Certified Global Privacy and Data Protection Consultant" (CG-PDP-C) or "Certified Global Privacy and Data Protection Auditor " (CG-PDP-A).
This program will be the first of the projects being undertaken under the co-branding arrangement with DNV.
At this point of time this is the most comprehensive training program available for Privacy and Data Protection Professionals in India.