FDPPI has been conducting certification program for Data Protection Professionals preparing them to take up the responsibility as Data Protection Officers in organizations or as consultants and Auditors who can assist and certify organizations to be compliant with Data Protection regulations.
In a three module program, FDPPI imparts knowledge of Indian Data Protection Laws, Global Data Protection Laws and the Data Audit skills, through an online training program.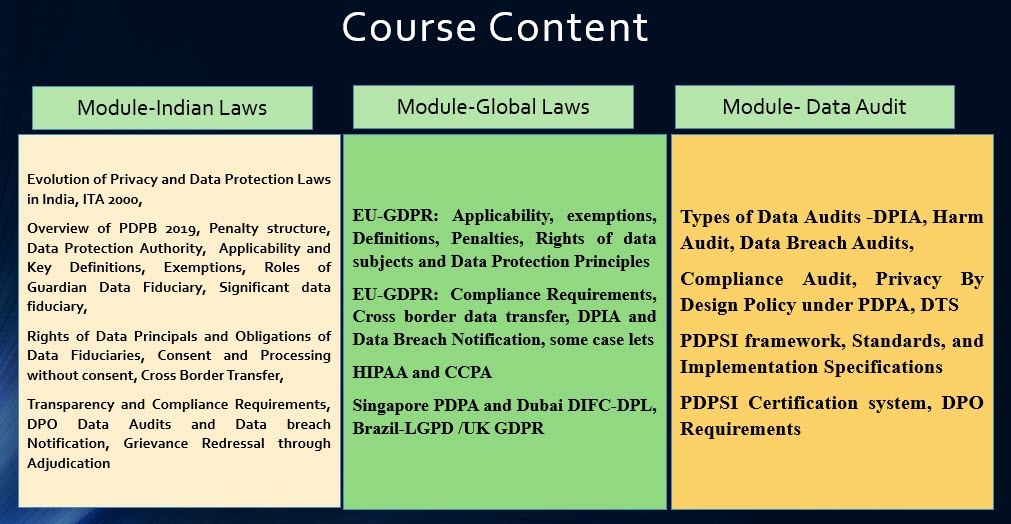 The Program would be conducted as a three week program. Each week the material for the week in written form and on the form of streaming videos approximately of 12 hours would be provided for the participants to study. Each Sunday, a faculty interaction would be conducted online at 11..00 am and clarifications if any would be provided.
After completion of the three interactive sessions by 24th October, examination would be held on 30th and 31st October. There will be three online examinations for 90 minutes each first and second examinations on Module I and II would be held on Saturday the 30th at 10.00 am and 3.00 pm. Module III examination would be held on 31st at 10.00 am.
The fee for the course would be Rs 40,000/- plus GST at 18% (Total 47,200) and payable in advance before September 30, 2021. The application form and the link for payment is available at the end of this page.
Early bird discount of Rs 3000/- would be available upto 18th September 2021. Fees upto September 18th 2021 would therefore be Rs 37000/- plus GST @18%  (Total Rs 43660/-)
All participants of the webinar on PDPSI to be held on September 19, 2021 would be provided a discount of Rs 2000/-, till October 2nd 2021.
For further clarifications, kindly contact Naavi over e-mail.
Persons interested in enrolling for the program may kindly complete the form below and make the necessary payment.
The fee includes complimentary membership of FDPPI. The default membership would be the basic membership.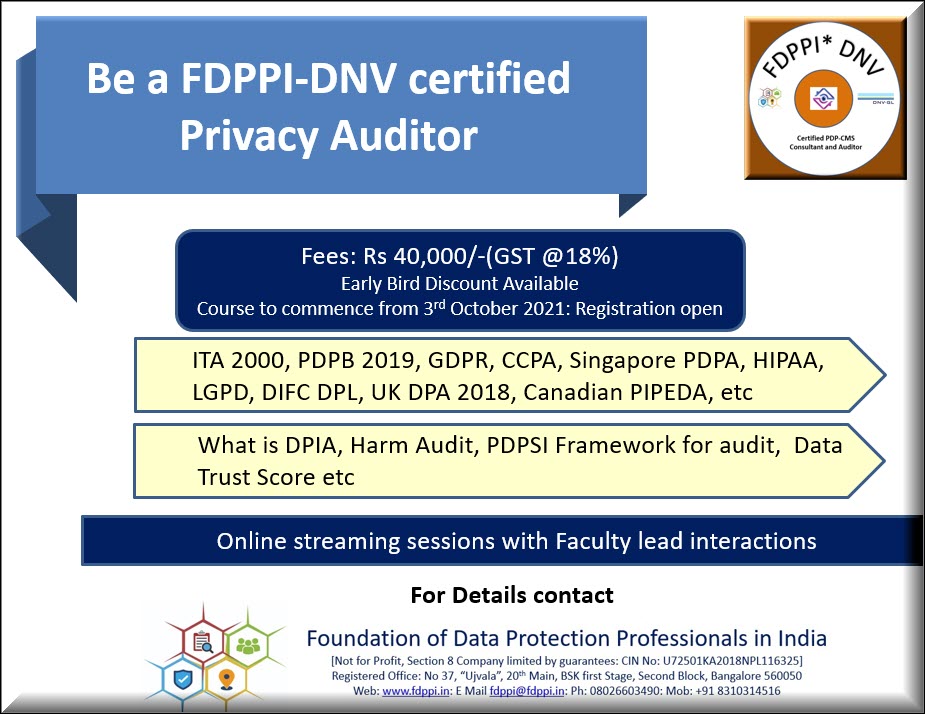 A Feedback from a participant of the previous program:
What was unique about this training and certification was the depth of coverage. With Naavi Sir being an expert in ITA 2000/08, he was able to bring in the required relevance and he was able to quote on specific cases and how ITA 2000/08 by itself includes data privacy requirements. His references to the HC judgements on matters of Personal Data Protection emphasized the importance. The content and teaching were well rounded and inclusive of surrounding aspects that perhaps one cannot expect in more mundane training programmes. The content presented by Ramesh Sir was very very elaborate on GDPR and all encompassing …. the discussions and points made by Naavi Sir while clarifying our doubts were themselves like a separate training session with valuable insights conveyed which he had gathered over the years …. overall it was a very enriching imparting of knowledge…. K.N.NarasingaRao, (Consultant, ICT at IIMB Bengaluru)
---
Application for Enrollment for Certification Program
P.S: Training is offered by 
Cyber Law College (Ujvala Consultants Pvt Ltd) as Training Partner
For more details, contact FDPPI over email. over fdppi@ fdppi.in