This course is designed to provide knowledge about the Indian Data Protection law as of date. It will be conducted online.
Presently the Information Technology Act 2000 as amended in 2008 provides the data protection provisions. A new act was proposed first as PDPB 2018 and there afterwards as  PDPB 2019 and now as DPDPB 2022.
The program "Certified Data Protection Professional-Module I (revised)" is a program which incorporates the current version of the Bill.
The coverage is around the following:
Understanding the Concept of Privacy and its relation with Data Protection
Evolution of Privacy Law in India. (ITA 2000-ITA 2008-Puttaswamy Judgement to DPDPB 2022.)
Applicability, Exemptions, Data Protection Obligations and Data Principal's Rights
Grounds of Processing without Consent, Restrictions on Transfer of Personal Data outside India
DPA, Adjudication and Appellate Tribunal, Penalties and Offences and Grievance Redressal mechanism
Compliance Obligations (Transparency and Accountability Measures), Data Audits and DPO
 Data Protection Compliance framework,   Data Protection Compliance Standard of India (DPCSI) Interactive discussion and Review.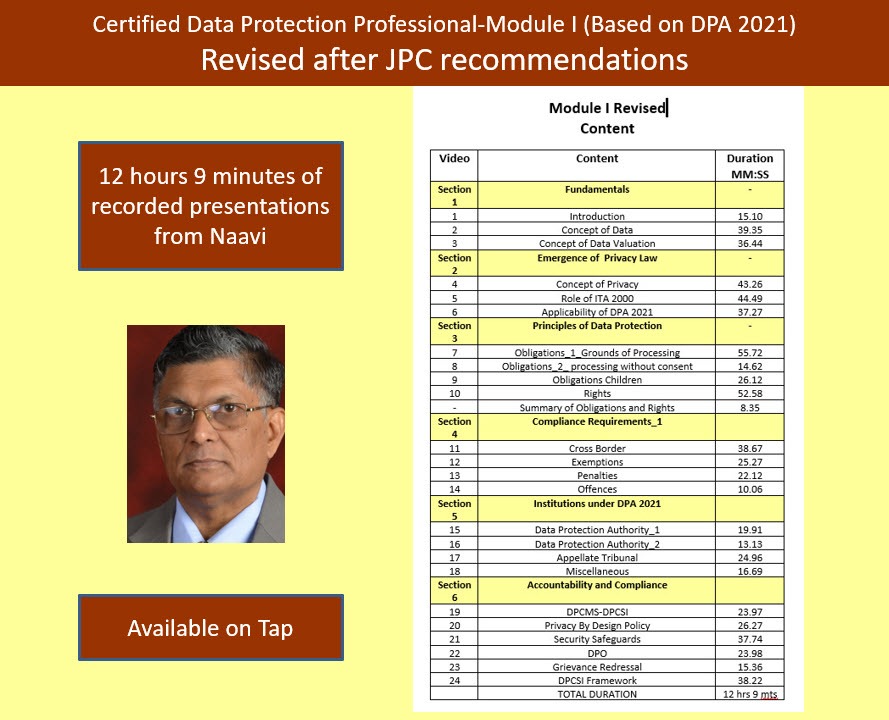 Appropriate reading material was provided to the participants and an online examination was held before the Certificates were awarded.
FDPPI certifications require a mandatory training as prescribed. While training programs may be organized by our accredited training partners from time to time either as offline or online programs, FDPPI also has made available some online training available on tap through streaming videos.
Interested persons may either avail the streaming video training or wait for other programs to be scheduled from time to time.
The online streaming training cum certification includes access to the streaming videos and reading material followed by online examination. Certification requires a minimum cut off marks in the examination. Those who may not attempt the exam or able to pass the cut off limits, may opt for "Participation Certificate".
The online streaming video based training with examination is presently priced at Rs 15000/- for Module I. (inclusive of GST @18%). 
Persons interested in enrolling for the program may kindly complete the form below and make the necessary payment.
The default membership would be the basic membership and is combined with the fee.
---
Application for Enrollment for Certification Program
P.S: Training is offered by Cyber Law College (Ujvala Consultants Pvt Ltd) as Training Partner
Please pay Rs 15000/- (Inclusive of GST of 18%) 
For more details, contact FDPPI over email. over fdppi@ fdppi.in
(Kindly note that any payment made to FDPPI for training and any payment made to Cyber Law College/Ujvala Consultants Pvt Ltd for FDPPI membership would be internally reconciled)
Naavi