(PS: FDPPI has now received GST Registration. In future all prices will stand revised to add the applicable GST)
FDPPI has developed a long term plan to provide Certification in Privacy and Data Protection related skills to professionals.
The principal objective of these certification programs is to create incremental skills in the professionals with each Certification. For this reason, every certification comes with a mandatory training program.
It is also considered that there is a need to keep the cost of Certifications reasonable. However, it is also the endeavour of FDPPI to ensure that all the members of the organization are also certified for the skills that the organization is trying to create. Hence Certifications are restricted to members only or in other words the first certification of a person includes membership. But from time to time members are provided benefits so that their over all cost of certification remains contained.
So far the first set of members who had contributed a minimum of Rs 5000/- as membership fee have been provided a benefit of Rs 11000/- by waiving off the training fee in the first batches of each of the two certification programs that have been so far implemented.
Five Module Expert Certification
FDPPI is building up to a Certification program to create "Certified Expert Data Protection Professional" (CEDPP).
Five different modules have been identified for CEDPP as follows:
Module I: Covering Indian Data Protection Law
Module G: Covering global data protection laws of key jurisdictions (GDPR, CCPA, Singapore CCPA, HIPAA, Dubai DPL2020)
Module T: Covering technology requirements of a Data Protection Professional
Module A: Covering the Data Audit skills required by a Data Auditor either acting independently or as a DPO.
Module B: Covering the behavioural skills required by a Data Protection Professional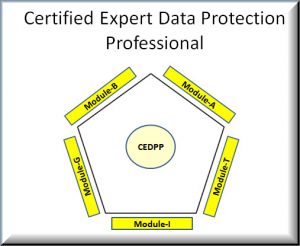 FDPPI  launched the Module-I program in December 2019 and is launched, Module G by July 2020 and Module A  in January 2021. (The other two modules will be launched in due course.)
Each Module is like an independent course and separate certificates are issued to the successful candidates who undergo the training followed by an online examination. eg: "Certified Data Protection Professional, M- I", or "Certified Data Protection Professional, M- G" and Certified Data Protection Professional, Module A".
Those who have completed all the three modules have been provided with a Certificate of "Certified Global Privacy and Data Protection Consultant" or "Certified Global Privacy and Data Protection Auditor" based on the cutoff marks set for the two categories.
All certificates will be archived and made available on verified request from companies for background verification purpose.
The trainings are being presently conducted as virtual courses by our training partner, Cyber Law College which has a history of over 20 years in conducting Cyber Law, HIPAA and GDPR courses both offline and online.
New integrated program from 19th June 2021
From 14th May 2021, registrations were opened for a new Online training program starting from June 19th, details of which are available in the link below.
This was  a Co-Branded program under the FDPPI-DNV joint certification scheme.  The fee was Rs 40,000/-
Students who are currently going through the consolidated module I, G and A were provided free access to the sessions in the program being conducted from June 19th.
The Certification under the new program will be done either as a Certified Global Privacy and Data Protection Consultant (CG-PDP-C) or Certified Global Privacy and Data Protection Auditor (CG-PDP-A) based on the separate cutoff provisions provided.
Those who have  Completed Module I alone or Module G alone or Module I and G, an upgradation plan was also made available. Members were also given a special price of Rs 32000/- upto May 31, 2021 instead of Rs 40000/- and this reduction will be available for those who have now completed Module I and G.
Presently all these concessional offerings are closed.  Please go through the pages on the respective programs for more details.
Naavi
Programs now available