FDPPI is developing Data Protection Professionals who are appropriately skilled in relevant law, and other knowledge and skills required to be an effective Data Protection Officer (DPO).
The Complete Certification program developed by FDPPI presently consists of 3 modules of which Module I on Indian Laws and Module G on Global laws  and Module "A" is on data audit skills.
This program  covers the following four distinct topics
a) Designing, Implementing and Auditing of the Data Protection Compliance Management System (DPCMS)
b) Data Protection Impact Assessment (DPIA)
c) Harm Audits
d) Data Breach Audits
e) Data Protection Law Compliance audit including a detailed discussion of DPCSI (Data Protection Compliance Standard of India) framework and accompanying Data Trust Score (DTS) mechanism.
The detailed coverage is indicated below
| | |
| --- | --- |
| Session | Topic |
| 1 | Introduction to Data Audit… |
| 2 | Overview of DPA 2021 |
| 3 | Harm Audit and DPIA Audit .. Example |
| 4 | Data breach Audit… Example |
| 5 | Data Protection Compliance Audit |
| 6 | DPSI- Standards |
| 7 | DPSI- Implementation Specifications: 1: Management Controls |
| 8 | DPSI- Implementation Specifications: 2: DPO Controls |
| 9 | DPSI- Implementation Specifications: 3: Legal and HR Controls |
| 10 | DPSI- Implementation Specifications: 4:  IT Controls |
| 11 |  DTS |
| 12 | Discussions |
FDPPI is adopting the Data Protection Standard of India (DPSI) as a foundation framework on which organizations can seek "Certification of Compliance" and an assessment of Data Trust Score  as envisaged in DPA 2021.
Persons who pass through the three modules Module I on Indian data protection laws, Module G on Global Data Protection Laws and Module A on Data Audit skills,  would be initially  able to provide implementation consultancy and some of them would also be able to certify organizations for compliance.
Such persons have been issued additional certificates titled
"Certified Global Privacy and Data Protection Consultant" and "Certified Global Data Protection Auditor", respectively.(Sample certificates below)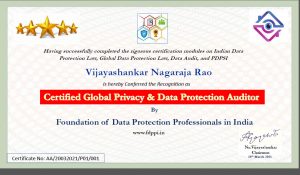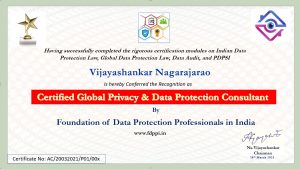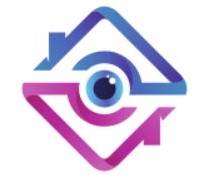 The Concept of DPSI with its set of Standards and Implementation Specifications can help an organization to implement a compliance program on its own and if necessary, seek certification. In case they so desire, they can use the assistance of consultants to implement the PDPSI framework within their organization.
The Module-A of the "Certified Data Protection Professional" covers different aspects o DPSI in detail so that the participants can provide necessary consultation to companies on implementation of personal data protection laws including the forthcoming law in India based on DPA 2021 as well as the GDPR or other laws which are already prevalent.
FDPPI certifications require a mandatory training as prescribed. While training programs may be organized by our accredited training partners from time to time either as offline or online programs, FDPPI also has made available some online training available on tap through streaming videos.
Interested persons may either avail the streaming video training or wait for other programs to be scheduled from time to time.
The online streaming training cum certification includes access to the streaming videos and reading material followed by online examination. Certification requires a minimum cut off marks in the examination. Those who may not attempt the exam or able to pass the cut off limits, may opt for "Participation Certificate".
The online streaming video based training with examination is presently priced at Rs 12,000/- for Module I and Rs 15,000/- for Module G, and Rs 15000/- for Module A. (18% GST additional)
The price for all the three programs taken together would be Rs 40,000/-. (18% GST additional)
Cost of other online and offline programs would be announced by our training partners separately.
Persons interested in enrolling for the currently available streaming video based program may kindly complete the form below and make the necessary payment.
The common form for both Module I, or Module G or for the Combo offers, is available below.
(Kindly note that Module I and Module G has to be completed before taking up Module A)
Persons interested in enrolling for the program may kindly complete the form below and make the necessary payment.
Naavi
Application for Enrollment for Certification Program
P.S: Training is offered by Cyber Law College (Ujvala Consultants Pvt Ltd) as Training Partner
For more details, contact FDPPI over email. over fdppi@ fdppi.in
Kindly note that the sessions of the training program will be recorded and used subsequently.