FDPPI organizes frequently, (Currently every Wednesday at 19.00 hrs IST) a knowledge enhancement series of interactions for its members on different topics of interest. Presently the event is offered free to all members and invitations are extended to other professionals also.
In due course it is intended to keep the event free for members of FDPPI only and charge a nominal fee to others.
The recordings of the videos are also being presently made available free of charge since FDPPI aims to ensure that knowledge about Data Protection spreads across.
FDPPI being the pioneering organization in India championing the cause of Personal Data Protection (Including Data Governance), the Jnaana Vardhini Series is developing into a spring of knowledge aggregating over a period of time into a treasure of knowledge.
We thank all the speakers who contribute to the development of this Event Bank.
The Videos will be available on You Tube Channel here
Naavi
Chairman
---
Forthcoming Events under Jnaana Vardhini Series
---
23rd December 2020 (52+*2)
Naavi and MG Kodandaraman discuss Data Trust Score and the methodology to be adopted by FDPPI
9th December 2020 (JVS 51+2*)
Naavi and Dr Amitkumar Khatu discuss the proposed ODR service
2nd December 2020 (JVS 50+2*)
25th November 2020 (JVS 49)
Mr Samiran Gupta will speak on ICANN operations
Mr. Samiran Gupta is the Head of India for ICANN and a veteran in business strategy and public affairs management. Prior to joining ICANN, Mr. Gupta was a Senior Director with APCO Worldwide responsible for counselling global clients in business and public affairs strategy. He has worked extensively in sectors including telecom and Internet technologies, entertainment, fintech, e-commerce, social media, energy and renewables. Mr. Gupta holds a Masters' degree in Business Administration from St Joseph's University in Philadelphia, United States of America, and a Bachelor of Commerce from University of Calcutta, India.
18th November 2020; (JVS 48)
Santosh Khadsare will speak on Data Breach, Data Forensics and Data Handling
11th November 2020 (JVS 47)
Dr Ashok Patil, Professor NLSUI, Head Center for Mediation, on Mediation
4th November 2020
JVS-46:  Introduction to ADR
29th October 2020
Naavi in conversation with Urban Update on Data Protection
28th October 2020
JVS-45: Protecting Patient Data in Hospitals
Mr J P Dwivedi , CIO, Rajiv Gandhi Cancer Institute, Delhi speaks o & Research Institute Securing patient Information  in Hospitals
14th October 2020
JVS-44: Data as an Asset for Business
Naavi and M K Kothandraram discuss on Valuation of Data as a Business Asset
7th October 2020
Round Table on "Section 43A of ITA 2000" (JVS 43)
Discussion on Section 43A of ITA 2000 by Naavi, Dr Mahendra Limaye, Deepalkshmi Vadivelan and Meenal maheshwari.
23rd September 2020: FDPPI Annual Webinar :(JVS 42)
Getting Ready for the New Era of Data Protection in India
16th September 2020: Jnaana Vardhini Webinar (JVS 41)
Round Table Discussion: A Day in DPO's Office,
Participants: Mr Kamal Acharya,DPO, Digitech Confidential, London, Ms Meena Lall, Chief Legal & Compliance, Tata Steel, Mr Bhimesh Karadi, DPO-Fulcrum Digita, Mr Nagendra Javagal, DPO- Data Analytics Organization
Moderated by Mr Ramesh Venkataraman
9th September  2020: Jnaana Vardhini Webinar (JVS 40)
Mr Adepu Bondiah, speaks on "Lessons from HIPAA Violations"
2nd September 2020 : Star Jnaana vardhini (2)
Demonstration of the product Klassify by Sukhpal Sandhu
26th August 2020: Jnaana Vardhini Webinar (39)
Mr Yogesh Shivde, Founder, SecureWires Technologies and Services LLP will speak on "Utilizing PCI DSS for Data Privacy Compliance".
19th August 2020: Star Jnaanavardhini Webinar (1)
Under the new monthly  series of Start Jnaana Vardhini webinars, open only to paid members, this wednesday the usual Jnaana Vardhini program will be designated as a Star category. This will be open only to paid members of the group and will be part of the continuing education system.
The topic would be "Legal Aspects of Cloud Computing" with specific reference to Data Protection.
On the head table would be Naavi, Rajesh Kumar, Dr Mahendra Limaye, Dr Rakesh Goyal and Mr Jitendra Sharma.
The program would be for 45 mts-60 mts at 19.00 hours.
13th August 2020: Virtual Seminar on Cyber Security and Data Protection
FDPPI as knowledge partner participated in a virtual seminar organized by GK Law College, KLE Group in Hubballi. Mr Naavi gave the key note address. The copy of the address is available here.
12th August 2020: Jnaana Vardhini Webinar (No 38)
Meenal Maheshwari speaks on Jurisdiction Issues in Data Protection Laws
---
11 th August 2020:  Jnaana Vardhini Webinar (No 37)
Data Protection Laws in Thailand..An Overview-Vasanthika Srinath
---
10th August 2020: Joint Parliamentary Committee Meeting on PDPB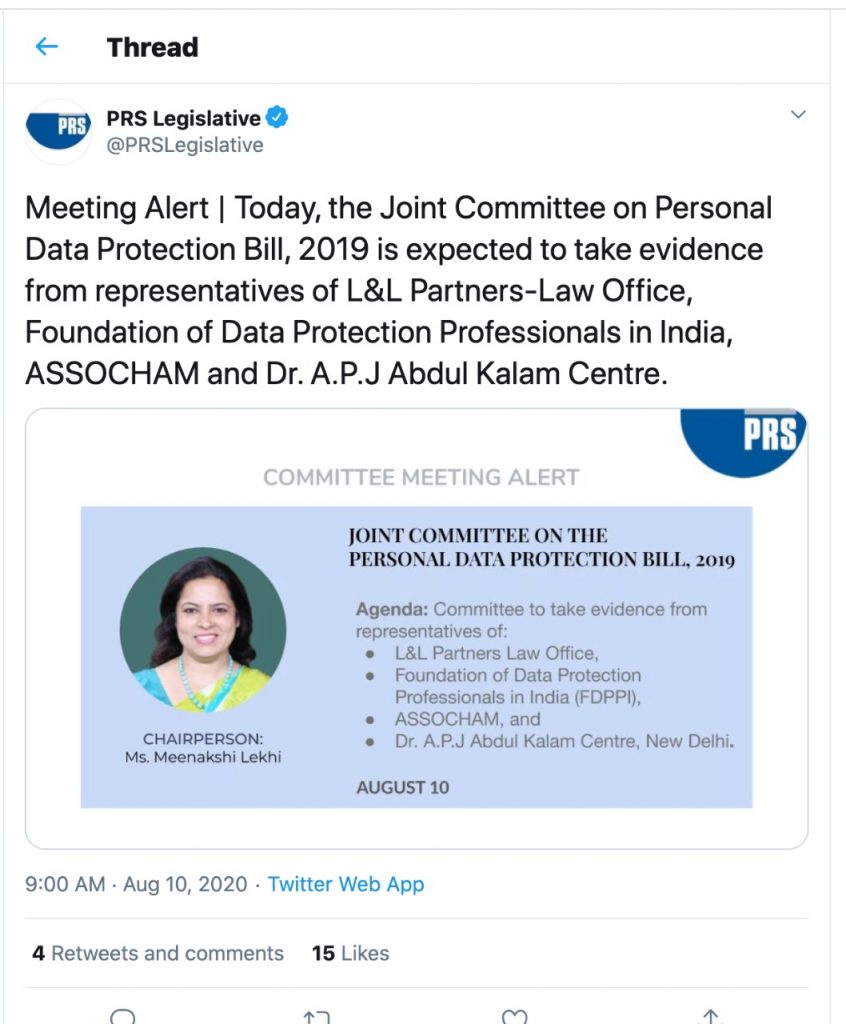 Naavi as Chairman of FDPPI had been invited to present his evidence in front of the Joint Parliamentary committee for PDPB. The proceedings are confidential. However, the views presented were well received and taken on record. FDPPI is happy to have made its presence in this august forum.
5th August 2020: Jnaana Vardhini Series (36)
Mr Sukhpal Sandhu will speak on the topic "5-Stage approach for effective Data Privacy Program."
---
2nd August 2020; Jnanavardhini Series
A Panel Discussion on US Privacy Shield and the EUCJ decision in the Max Schrems case (Na.Vijayahankar and Rajesh Kumar, Data Protection Officer, Infosys)
1st August 2020: At Association of Certified Fraud Examiners, Hyderabad
An overview on Personal Data Protection Bill 2019
30th July 2020: At Data Protection Forum
Naavi was part of a webinar conducted by Data Protection Forum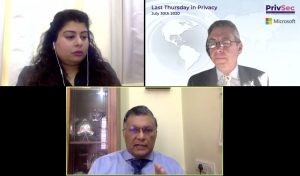 29th July 2020: Jnaanavardhini Series
A Panel Discussion on Kris Gopalakrishnan Committee report on Data Governance Framework (Na.Vijayashankar and S.Niranjan, Vice President Infosys)
22nd July 2020: FDPPI Jnaanavardhini Series
Dr Rakesh Goyal speaks on Digital Signatures and e_Sign
Completed Events
15th July 2020: FDPPI Jnaanavardhini Series
Deepalakshmi Vadivelan speaks on "E-Contracts and e-Sign in the light of IT Act"
8th July 2020: FDPPI Jnaanavardhini Series
A Discussion on Personal Data Protection Standard of India (PDPSI)
1st July 2020: FDPPI Jnaanavardhini Series
Mr S.K. Prakash, from CISCO speaks on DIFC Data Protection Law 2020
26th June 2020: FDPPI Jnaanavardhini Series
Mr Niranjan Srinivas, speaks on  "360 degree view of Covid Impact on Business"
17th June 2020: FDPPI Jnaanavardhini Series
Sameer Mathur, Founder & CEO, SM Consulting spoke on Competency Areas and Key Competency Indicator in Managing Projects
10th June 2020: Jnaanavardhini Webinar Series
Mr Syed Mansoor Ahmed, Psychodrama Director, CP-NLP and TA spoke on HR Issues during COVID Lock down
6th June 2020: Certified Data Protection Professional-Module-I 
The third batch for Certification will commence on 6th June 2020
Copy of Prospectus is available here
3rd June 2020: FDPPI Jnaanavardhini Series:
Talk by Dr Mahendra Limaye on " Cases on Data Privacy in India at Adjudication and  TDSAT"
27th May 2020:FDPPI Jnaanavardhini Series:
Talk by Suresh Balepur on "Privacy By Design"
20th May 2020: FDPPI Jnaanavardhini Series: :
Talk by Mr Anand Patnam,  Information Security  and Data Protection  Professional, Bengaluru.
Topic: Leveraging Project Management Methodology for PDPA Compliance
13th May 2020: FDPPI Jnanavardhini Series:Security in the Work From Home environment
Talk by Mr Mohan Bhat, Co-Founder, Accops Systems Pvt Ltd, Pune. Topic: Security in the Work From Home environment.
27th: 8th May 2020: Interaction with a group of Professionals in Delhi 
Naavi held an interactive session with a group of professionals in Delhi over Zoom at 6.30 PM (IST) to discuss the concept of FDPPI. Meeting organized by Sameer Mathur, Honorary President, Delhi Chapter. Participation by invitation. Contact Sameer Mathur/Naavi for attending.
26: 6th May 2020
Mr Bondiah Adepu addressed a webinar at 7.00 pm on "Adopting ISO 277001 to PDPA". It will be conducted over Zoom and will be open for non members also on selective basis. Contact any member of FDPPI for more information.
A Link to the video is available here:
25: 6th May 2020
Naavi addressed a webinar at 11.oo am on "Zooming in on Zoom Security"… On Zoom
A link to the video is available here:
24: 29th April 2020
Mr Ritesh Bhatia addressed a webinar on "Is Zoom a Security Risk?" at 7.00 pm on Zoom. Open to non members also. Contact any member of FDPPI for more information.
23: 25th April 2020
Nagpur : Webinar on PDPA by Naavi. Precursor to setting up of Nagpur Chapter: 4.00 pm. Open to interested persons, by invitation.
Held successfully. Dr Mahendra Limaye orgaized the meeting which was addressed by Naavi.
22: 24th April 2020
Delhi Chapter formal launch: 1.00 pm. Through Zoom. Naavi to explain the objectives of FDPPI
Open to select persons
21: 22nd April 2020
Advocate Karthikeyan conducts a webinar on "Legal Aspects of Information Security"
Through Zoom, at 7.00 pm
Open to interested persons by invitation
20: 17th April 2020
Personal Data Protection Act for NABARD Executives
Webinar to discuss the implication of PDPA for NABARD activities.
19: 16th April 2020
18: 15th April 2020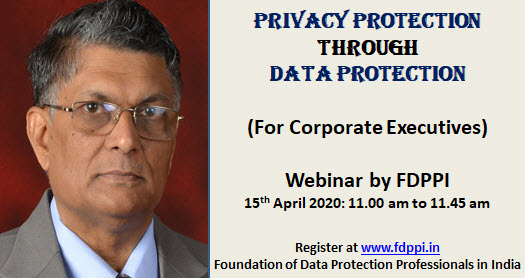 17: 28th March 2020: Seminar on Privacy and Data Protection at Hubli (Postponed due to Corona Lockdown)
FDPPI will be knowledge partnering  GK Law College Hubli for a day long seminar on Privacy and Data Protection in Hubli on 28th March 2020.
16: 21st march 2020: CPE Program for ISACA Bangalore
Naavi will conduct a two hour online CPE program on PDPA to members of ISACA, Bangalore on 21st March 2020 between 5.30 pm to 7.30 pm.
15: 14th march 2020: Workshop in Chennai on PDPA
CYSI and FDPPI are conducting a workshop in Chennai on PDP on 14th march 2020. Naavi will present the salient features of the proposed Act. Former Judge of Madras High Court  Honourable K.N. Basha and Honourable M P, Sri P.Wilson will grace the occasion. The first certificates for "Certified Data Protection Professional" (M-I) will be distributed during the occasion to two successful candidates in Chennai.
Photos of the event: https://photos.app.goo.gl/kWDcLTB82fhfcYUp7
14. 8th February 2020: Presentation on ISO 277001 by Sandhya Khamsera at Bangalore and Discussion on  PDPA Bill
Under the leadership of V Nagendra, the Director, the Bangalore RC conducted a "Jnaana Vahini" event on 8th February 2020. First Ms Sandhya Khamsera made a useful presentation on ISO 277001.
Then the group discussed the PDPA Bill for the purpose of submission of comments to the Joint Parliamentary Committee.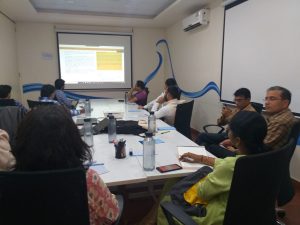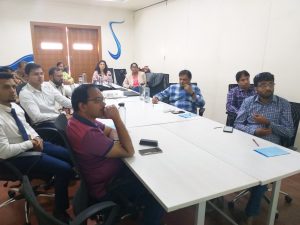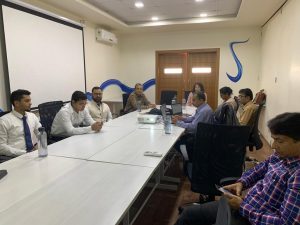 ---
---
Any Suggestions for conducting of specific  events, in future may be sent to FDPPI
---