15th July 2020: FDPPI Jnaanavardhini Series
Deepalakshmi Vadivelan speaks on "E-Contracts and e-Sign in the light of IT Act"
8th July 2020: FDPPI Jnaanavardhini Series
A Discussion on Personal Data Protection Standard of India (PDPSI)
1st July 2020: FDPPI Jnaanavardhini Series
Mr S.K. Prakash, from CISCO speaks on DIFC Data Protection Law 2020
26th June 2020: FDPPI Jnaanavardhini Series
Mr Niranjan Srinivas, speaks on  "360 degree view of Covid Impact on Business"
17th June 2020: FDPPI Jnaanavardhini Series
Sameer Mathur, Founder & CEO, SM Consulting spoke on Competency Areas and Key Competency Indicator in Managing Projects
10th June 2020: Jnaanavardhini Webinar Series
Mr Syed Mansoor Ahmed, Psychodrama Director, CP-NLP and TA spoke on HR Issues during COVID Lock down
6th June 2020: Certified Data Protection Professional-Module-I 
The third batch for Certification will commence on 6th June 2020
Copy of Prospectus is available here
3rd June 2020: FDPPI Jnaanavardhini Series:
Talk by Dr Mahendra Limaye on " Cases on Data Privacy in India at Adjudication and  TDSAT"
27th May 2020:FDPPI Jnaanavardhini Series:
Talk by Suresh Balepur on "Privacy By Design"
20th May 2020: FDPPI Jnaanavardhini Series: :
Talk by Mr Anand Patnam,  Information Security  and Data Protection  Professional, Bengaluru.
Topic: Leveraging Project Management Methodology for PDPA Compliance
13th May 2020: FDPPI Jnanavardhini Series:Security in the Work From Home environment
Talk by Mr Mohan Bhat, Co-Founder, Accops Systems Pvt Ltd, Pune. Topic: Security in the Work From Home environment.
27th: 8th May 2020: Interaction with a group of Professionals in Delhi 
Naavi held an interactive session with a group of professionals in Delhi over Zoom at 6.30 PM (IST) to discuss the concept of FDPPI. Meeting organized by Sameer Mathur, Honorary President, Delhi Chapter. Participation by invitation. Contact Sameer Mathur/Naavi for attending.
26: 6th May 2020
Mr Bondiah Adepu addressed a webinar at 7.00 pm on "Adopting ISO 277001 to PDPA". It will be conducted over Zoom and will be open for non members also on selective basis. Contact any member of FDPPI for more information.
A Link to the video is available here:
25: 6th May 2020
Naavi addressed a webinar at 11.oo am on "Zooming in on Zoom Security"… On Zoom
A link to the video is available here:
24: 29th April 2020
Mr Ritesh Bhatia addressed a webinar on "Is Zoom a Security Risk?" at 7.00 pm on Zoom. Open to non members also. Contact any member of FDPPI for more information.
23: 25th April 2020
Nagpur : Webinar on PDPA by Naavi. Precursor to setting up of Nagpur Chapter: 4.00 pm. Open to interested persons, by invitation.
Held successfully. Dr Mahendra Limaye orgaized the meeting which was addressed by Naavi.
22: 24th April 2020
Delhi Chapter formal launch: 1.00 pm. Through Zoom. Naavi to explain the objectives of FDPPI
Open to select persons
21: 22nd April 2020
Advocate Karthikeyan conducts a webinar on "Legal Aspects of Information Security"
Through Zoom, at 7.00 pm
Open to interested persons by invitation
20: 17th April 2020
Personal Data Protection Act for NABARD Executives
Webinar to discuss the implication of PDPA for NABARD activities.
19: 16th April 2020
18: 15th April 2020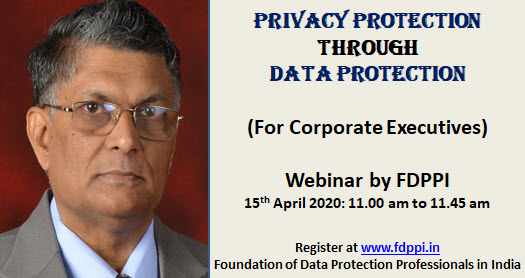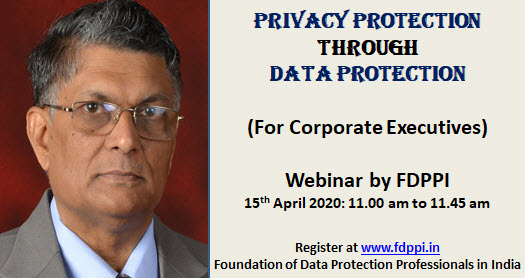 17: 28th March 2020: Seminar on Privacy and Data Protection at Hubli (Postponed due to Corona Lockdown)
FDPPI will be knowledge partnering  GK Law College Hubli for a day long seminar on Privacy and Data Protection in Hubli on 28th March 2020.
16: 21st march 2020: CPE Program for ISACA Bangalore
Naavi will conduct a two hour online CPE program on PDPA to members of ISACA, Bangalore on 21st March 2020 between 5.30 pm to 7.30 pm.
15: 14th march 2020: Workshop in Chennai on PDPA
CYSI and FDPPI are conducting a workshop in Chennai on PDP on 14th march 2020. Naavi will present the salient features of the proposed Act. Former Judge of Madras High Court  Honourable K.N. Basha and Honourable M P, Sri P.Wilson will grace the occasion. The first certificates for "Certified Data Protection Professional" (M-I) will be distributed during the occasion to two successful candidates in Chennai.
Photos of the event: https://photos.app.goo.gl/kWDcLTB82fhfcYUp7
14. 8th February 2020: Presentation on ISO 277001 by Sandhya Khamsera at Bangalore and Discussion on  PDPA Bill
Under the leadership of V Nagendra, the Director, the Bangalore RC conducted a "Jnaana Vahini" event on 8th February 2020. First Ms Sandhya Khamsera made a useful presentation on ISO 277001.
Then the group discussed the PDPA Bill for the purpose of submission of comments to the Joint Parliamentary Committee.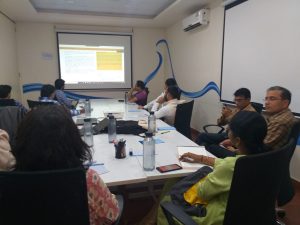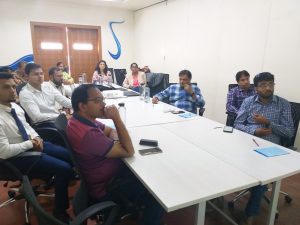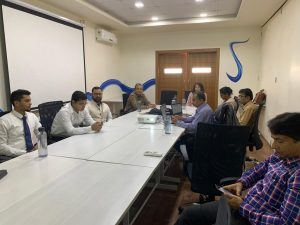 13. 12th October 2019: Webinar on Data Governance
On 12th October 2019, at 5,30, Mr Amit Kadam of TUV SUD presented gave a presentation on Data Governance.
Mr Naavi introduced the topic. A copy of the web talk can be viewed here:
12. 17th September 2019: Cyber Forensics in Privacy Era
A Knowledge Sharing Session of FDPPI was held on 17th September 2019 at Deloitte, Bangalore. Mr Sebastin Edussery of Deloitte and Mr Naavi of FDPPI spoke on the subject of Cyber Forensics in the Privacy Era and Evidentiary Challenges in Cyber Forensics. Mr Nagendra welcomed the gathering and proposed the vote of thanks. T Group sponsored the high tea.
11. 7th September 2019 Webinar on ISO27701
A webinar was held on 7th September at 7.00 pm.  on ISO 27701 the speaker was Sandhya Kamesra. She is the founder of Pricoris LLP, a start up consulting and training for in the field of Information security, business continuity, cyber risk and privacy. She has also worked with BSI India as  Chief Operating officer capacity building.
The  link to the webinar can be found here:
10. 16th July 2019: Launch of Delhi Chapter and Discussion on "Data Audit under PDPA"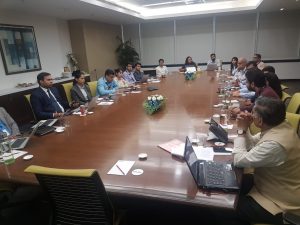 On 16th July 2019, a meeting was be held at Deloitte, office in Tower 10 B, in Cyber City, Gurugaon at 2.30 PM. attended by a number of professionals from the industry.
During the meeting the Delhi Chapter of FDPPI was formally launched. Presently, Mr Nakul Chopra will be the Honorary President of the Chapter on a provisional basis. After enrolment of more members the members will formally elect the honorary office bearers of the Chapter.
During the meeting, Mr Nakul Chopra presented a brief overview of the Personal Data Protection Act  expected to be a law in India in due course.
Naavi made a brief presentation on the topic "Data Audit under PDPA". There was an active discussion on PDPA and the impact of the law on the industry and the professionals.
9. 3rd July 2019: Chai-Pe-Charcha at Pune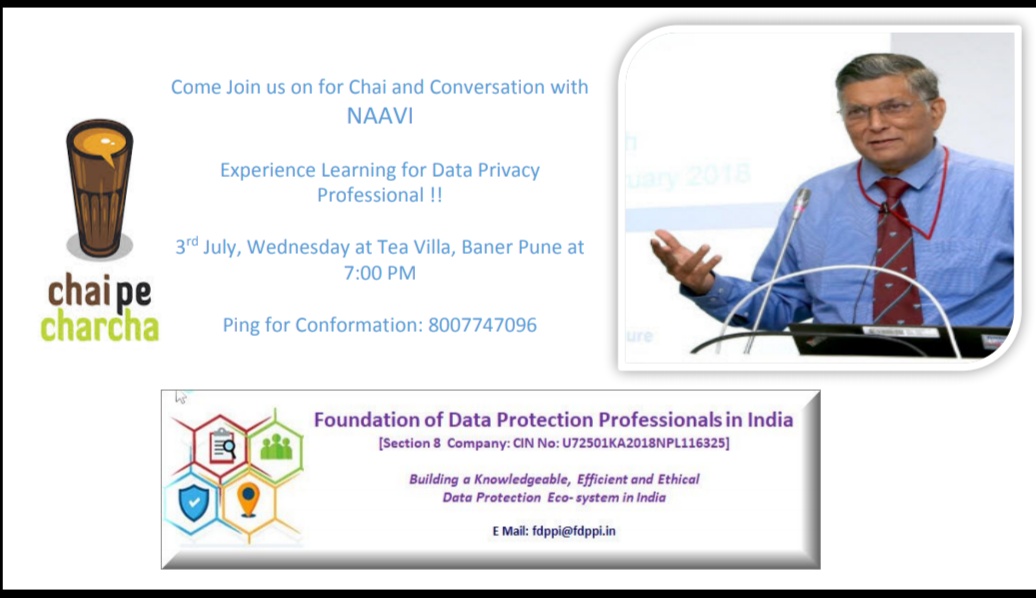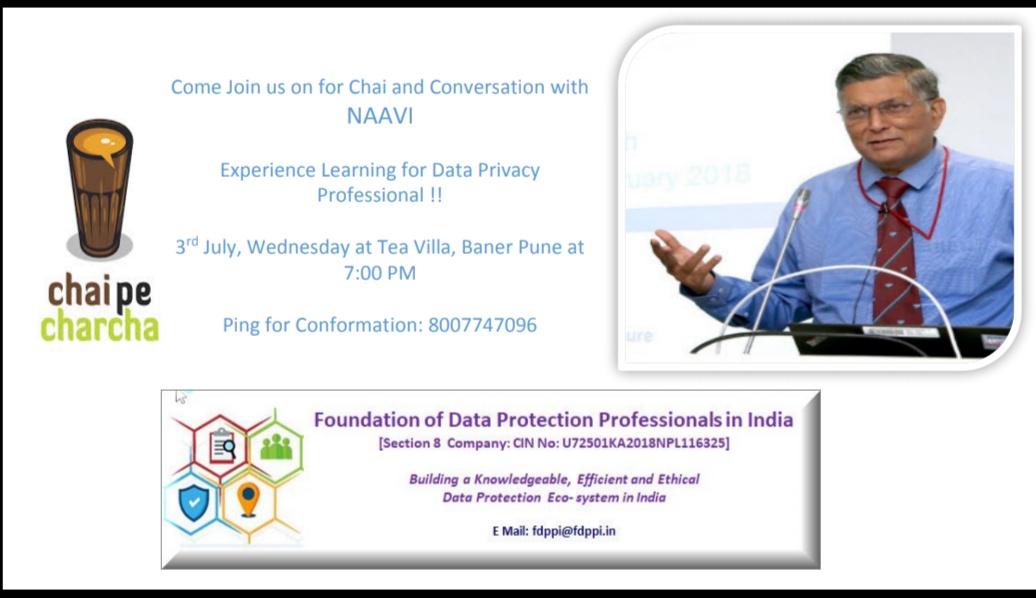 8. 11th May 2019:  Webinar on "Emerging Opportunities for Data Protection Professionals in India"
FDPPI Mumbai is organizing a webinar on "Emerging opportunities for Data Privacy  Professionals in India" on 11th May, 2019 at 8.00 PM (IST)
Topic:   Emerging opportunities for Data Privacy Professionals in India
Speaker: Na.Vijayashankar (Naavi), Data Protection Consultant
Program: 
Welcome and Brief about the FDPPI (Foundation for the Data Protection Professionals in India) by Mr Adepu Bondiah
Presentation by Naavi covering

Emerging opportunities for Data Protection Professionals in India
How Does PDPA 2018 differ from GDPR
Challenges in Compliance for Data Fiduciaries and Data Processors
Challenges in conducting Data Audit and Computing Data Trust Score
Q &A

Vote of Thanks: Mr Rakesh Goyal
Participation is by invitation. For invitation, Contact Mr Adepu Bondiah, or Rakesh Goyal or Mr Anil Chiplunkar or Mr Ritesh Bhatia, the Governing Council members of FDPPI, Mumbai.
Request for Invitation may be sent to fdppi.mumbai@fdppi.in 
7: 16th March 2019: Launch of Chennai Chapter
FDPPI is set to launch its Chennai Chapter on 16th March 2019 along with an event being conducted by Cyber Society of India (CySi)  on on Section 65B of Indian Evidence Act. Naavi was the founder secretary of CySi and a continuing life member and supporter of CySi. Mr S.Balu the current President and Mr Badri, current Joint Secretary of CySi are members of FDPPI.
FDPPI as a Federation of agencies working on different aspects of Data Protection, associates itself with such activities by like minded organizations and the event is one such occasion after the last event in Bangalore with ISACA.
During the program, Naavi is intending to launch the print version of his e-book on Section 65B of Indian Evidence Act.
Members of FDPPI in Chennai are requested to make the event a success.
6: 24th February 2019: Webinar on California Consumer Privacy Act
A Webinar was held on 24th February 2019 at 8.00 pm on California Consumer Privacy Act. The webinar would be conducted by Mr Nakul Chopra of Deloitte.
Interested persons can send their request to attend the webinar through e-mail.
5: 19th January 2019: Workshop on Impact of GDPR
FDPPI and ISACA are conducting a joint event in Bangalore on "Impact of GDPR in India and Proposed PDPA 2018". 
The event will be held between 2.30 pm and 5.30 pm at FKCCI Hall , 3rd Floor, Federation of Karnataka Chambers of Commerce and Industry, Federation House, K.G.Road, Opposite Bhoomika Theater, Next to SBM building. Bengaluru, Karnataka 560009.
---
4: 10th January 2019: Webinar on Intermediary Guidelines
A Web based Round Table on "Intermediary Guidelines under Section 79 of ITA 2000/8-Discussion on Draft released for Public Comments"  to collate the views to be submitted by FDPPI.
A copy of the presentation made by Naavi is available in the library section.
3: 19th December 2018: Webinar on Privacy Governance
Agni Dipta Sarkar, an E Governance Professional will conduct a webinar on "Privacy Governance" at 8.00 pm. Mr Agni  is an information security, privacy protection and business continuity leader.
2: 3rd November 2018: Webinar on Comparing GDPR with ITA 2008
Sreevidya Varma, one of the supporting members of FDPPI  conducted a webinar on "Comparing GDPR with ITA 2008".  Mr S.K, Prakash, Hon President welcomed the participants. Mr Ramesh, Hon VP and several members and a few non members were also present in the webinar.
1: 9th October 2018: Web Meeting on Impact of Aadhaar judgement on Industry
A Web meeting was held on 9th October 2018 at 8.00 pm (IST) to discuss the impact of the Aadhaar judgement on the industry and to discuss the comments on PDPA 2018 to be sent to MeitY.
The background material for the discussions was provided by Naavi in the form of a series of articles published at www.naavi.org (Last Day for Comments on PDPA 2018 is 10th October) and a draft note that was circulated amongst the provisional members.
Subsequent to the discussions, a note has been forwarded to the Ministry of IT through the designated website.
A Copy of the comments sent is available in the library
---
---
Any Suggestions for conducting of specific  events, in future may be sent to FDPPI
---