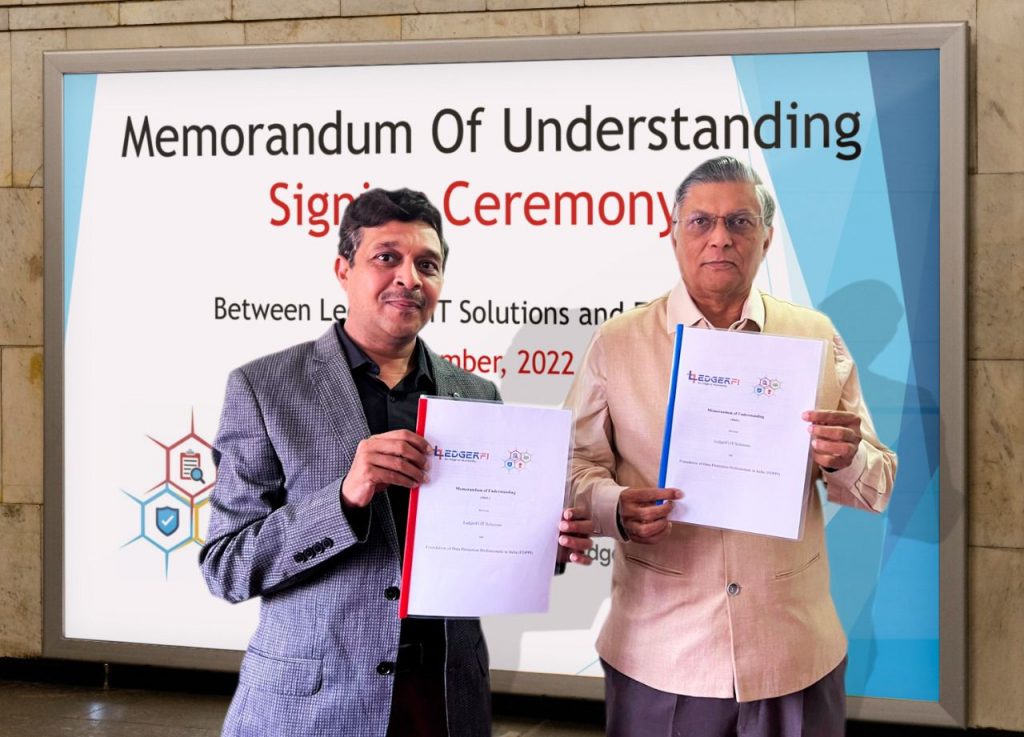 FDPPI signed an MOU today with LedgerFi IT solutions for a LedgerMail corporate Secure E Mail solution.
LedgerFi is a UAE based company with a development center in Bangalore which has developed a unique blockchain based e-mail solution which does not use the insecure SMTP protocol.
The system provides end to end encryption with a PKI based digital signature system with the private key being in the control of the user.
The solution comes with two versions. In one version (B2C version) the e-mail server works on distributed systems which consists of a public blockchain and public decentralised storage.
In the other version (B2B version) the server is maintained by the corporate entity (on premise or private cloud). The system comes with an admin level control for decryption in case of law enforcement requirements. Hence the solution meets the requirements of security envisaged under the Indian law enforcement requirements and the CERT In regulations.
The solution can be used by a company or a Government department for internal e-mails where the users are on-boarded to the system as members of a closed community.
In the event e-mails are to be sent and received to or from persons outside the closed system, an invitation to be onboarded can be sent and the outsider can be brought into the system.
The system can be configured to use the current e-mail ID of a user such as xyz@gmail.com and hence the user who is onboarded onto the system does not have to make any change of identity with his contacts. All the contacts who are in the LedgerMail system can use the ID xyz@gmail.com to send and receive the e-mails through the system from or to other persons within the system.
The system is likely to be a big boon to Banks to prevent phishing if they onboard all their customers as a part of their account opening process. Similarly the Government of India which has been trying to move people out of Gmail can also use this system with an inhouse server which is secure and free from SMTP protocol deficiencies.
FDPPI expects this system to catch on with Privacy Conscious but Cyber Law Compliant users. FDPPI is proud to be the first Indian Corporate to adopt the system.