This course is a consolidated course which combines Module I, Module G and Module A.
The Certification is being provided under the FDPPI-DNV co-branded services.
The program details are as follows: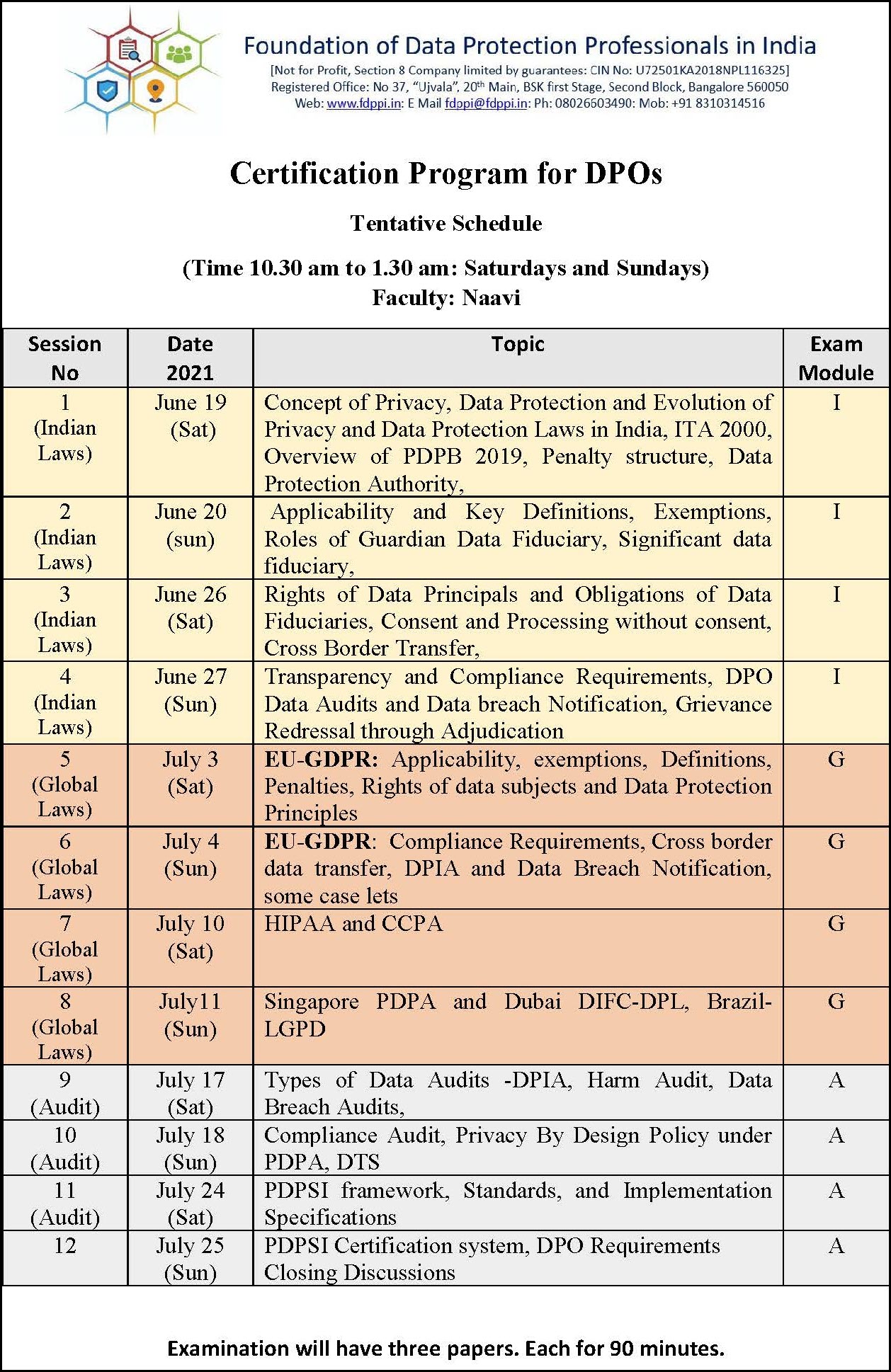 The 36 hour online program will be conducted at week ends on Saturdays and Sundays for 3 hours on each day starting from 10.30 am. The tentative date of starting would be 19th June 2021.
The total fee for the course would be Rs 40,000/-. (includes basic membership of FDPPI)
Members of FDPPI and Sponsored Auditors of DNV (Application to be routed through DNV) will get appropriate discounts.
Those who have already completed the certification of any of the modules Module I, G or A will be given corresponding discounts.
The discounted registrations will close by May 31st 2021 and all registrations will close by 10th June 2021.
For further clarifications, kindly contact Naavi over e-mail.
Persons interested in enrolling for the program may kindly complete the form below and make the necessary payment.
The fee includes complimentary membership of FDPPI. The default membership would be the basic membership.
Those who would like to apply for Foundation membership may contact FDPPI by email. They need to pay an additional fee of Rs 2000/- and sign a guarantee obligation as per the Memorandum and Articles of the Company since FDPPI is a Section 8 company limited by guarantees. (This is optional)
---
Application for Enrollment for Certification Program
P.S: Training is offered by 
Cyber Law College (Ujvala Consultants Pvt Ltd) as Training Partner
For more details, contact FDPPI over email. over fdppi@ fdppi.in
(Kindly note that any payment made to FDPPI for training and any payment made to Cyber Law College/Ujvala Consultants Pvt Ltd for FDPPI membership would be internally reconciled)