FDPPI is embarking on celebration of the International Data Privacy Day 2023 with a unique project to obtain a "Data Privacy Pledge" from the community.
Those who take the pledge would be issued a certificate as below.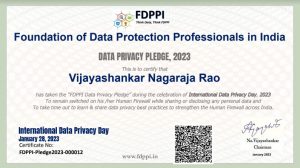 The pledge can be taken at this URL: https://forms.gle/o1jwDf1L3KuDDUd36
The pledge reads as follows:
Pledge of Data Privacy
On the occasion of International Data Privacy Day 2023,  I hereby take a voluntary pledge to uphold the cause of "Privacy as a Human Right" by taking all steps necessary for Protection and Privacy of Personal data which I shall come across in my Professional and Personal life with due regard to the Principles of Fairness and Lawfulness of processing.
In particular:
I shall adhere to the requirement of obtaining informed consent of the data principals whose personal information comes within my control and shall use, disclose such information only as per the choice of the data principal and in accordance with the applicable laws.
I shall adhere to the principle of Minimal and  purpose oriented Collection of personal data and shall ensure that it shall be shared only on a need to know basis.
I shall take necessary steps to stop using personal information if the purpose for which it came into my possession has been completed.
I shall take necessary steps to ensure that the personal data is kept updated from time to time.
I shall not disclose the personal information except as provided under law or in the genuine interest of the individual or the community.
I shall at all times take steps to ensure the security of the personal data from unauthorized access or modification or denial of access for authorized purposes.
I shall take all necessary steps to comply with the data protection law with regard to reporting of data breach or any other requirement of compliance.
I shall endeavour to keep myself aware of the data protection laws and also spread awareness in my organization and with my professional and personal contacts.
---
P.S: The pledge document would be available upto February 18, 2023.
---
FDPPI thanks the team of Dr Anirban Ghosh, Sathyavageeswaran, Ramesh Kauta and Subbarayudu Tallapragada for facilitating this "Data Privacy Pledge" as a concept.