FDPPI's first batch for training in Certified Data Protection Professional-Batch I will commence on 26th and 27th and September 2 and 3 . It is an online batch for 12 hours to be conducted between 2.30 pm to 5.30 pm. Fees Rs 15000/-
Complimentary registration in the Indian National Register of Data Protection Professionals in India. (worth Rs 30o0/-) is included.
Will be considered as Part of the Certified Data Protection and Data Auditor program scheduled for October.
Coverage will include DPDPA 2023 and ITA 2000 as relevant.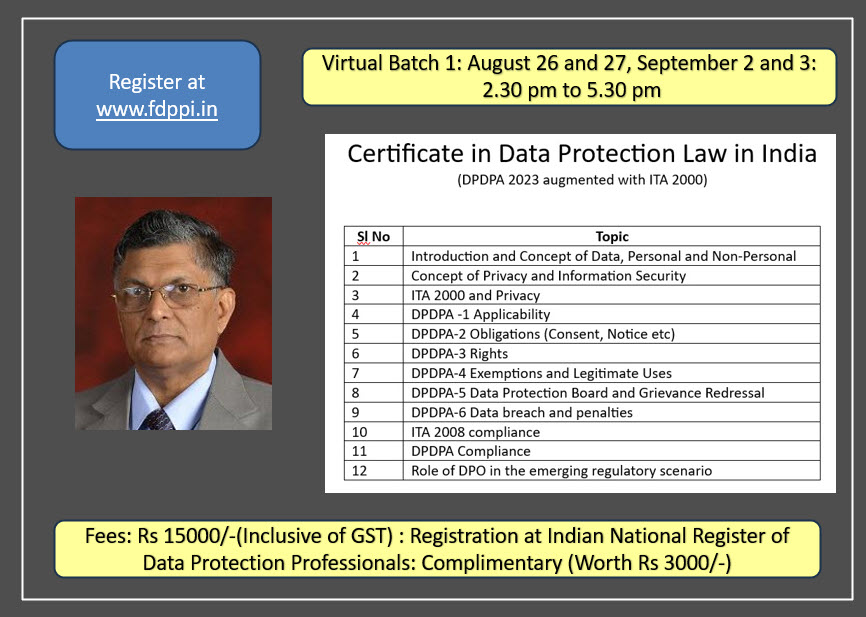 Application for Enrollment for Certification Program
P.S: Training is offered by Cyber Law College (Ujvala Consultants Pvt Ltd) as Training Partner
Please pay Rs 15000/- (Inclusive of GST of 18%) 

For more details, contact FDPPI over email. over fdppi@ fdppi.in
(Kindly note that any payment made to FDPPI for training and any payment made to Cyber Law College/Ujvala Consultants Pvt Ltd for FDPPI membership would be internally reconciled)